Why Should I Replace My Missing Teeth With Dental Implants?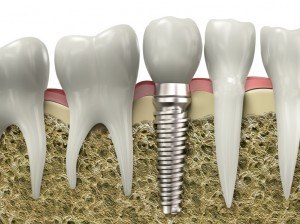 If you have missing teeth and are considering different ways to replace them – you ought to give dental implants a thought. Unlike removable partial dentures or fixed dental bridges, a dental implant is a stand-alone tooth replacement option that does not require altering the teeth adjacent to them.
Implants Last for Life
There's no other tooth replacement treatment that lasts as long as dental implants do. In fact, implants have the highest success rate of any dental therapy available. In over 94% of cases, implants last for the duration of the patient's life.
Benefits of Dental Implants
Other than just replacing your tooth permanently, dental implants have many additional benefits. For one, they encourage new bone growth within your jaw. This not only strengthens the implant, but it also benefits the adjacent teeth. As a result, people are able to retain their natural teeth longer and reduce the risk of bone loss as they age.
You can also use dental implants to replace as many teeth as you need – whether it is just one, 4, or to anchor a removable overdenture.
Computer-Guided Implants
At Speckman Dental we use 3D imaging to generate a computer-guided dental implant treatment process. This results in a smoother placement surgery and reduced recovery times.
To find out if dental implants are right for you, call Speckman Dental today to schedule a private evaluation. Financing for dental implant treatment is available.