Dentistry for Children

Are you looking for a family or pediatric dentist in Ventura? Speckman Dental loves children of all ages! We offer comprehensive pediatric dental services so that it's easier for your family to access great care in one location.
We provide:
Cleanings, Exams and X-Rays
Routine check-ups are the most important part of helping your child maintain a healthy smile into adulthood. We recommend your child have his or her first visit by their 1st birthday, and every 6 months thereafter.
Drill-Free, Shot-Free Fillings
Dr. Speckman uses dental lasers to provide shot-free, drill-free fillings. We also offer conventional white fillings for larger cavities, to prevent the infection from spreading to other teeth in the mouth.
Dental Sealants
Protective dental sealants block out bacteria that can cause cavities in the deep grooves and pits of your child's back teeth. Sealants take just a few minutes to apply and provide years of protection.
Fluoride Treatments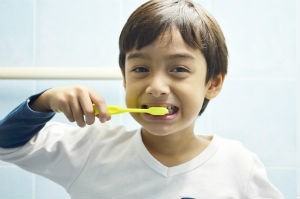 Professional fluoride treatments can help your child avoid tooth decay in the future. We apply fluoride after each cleaning.
How long has it been since your child had their last dental check-up? Routine visits help Dr. Speckman identify risk factors and weak areas of enamel so that you can avoid problems in the future. Call us today to schedule your first visit with us!
We are also proud to offer Gum Disease Treatment and Prevention services.