Comfortable Restorations
Going without your natural teeth can make you feel too embarrassed to smile or talk around friends and colleagues. Dr. Speckman offers several denture options to help you feel confident again:
Traditional Option
Removable dentures replace all of your teeth in an arch at one time. We are even able to customize the appearance of the denture teeth, giving you a more beautiful smile than you had before!
Partial Option
By preserving your existing healthy teeth, partial dentures replace only the teeth that are missing or need to be extracted. The partial clasps into place around your other teeth for added stability.
Implant Overdentures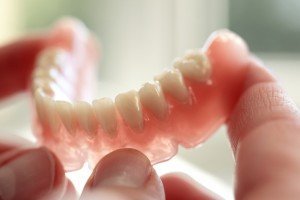 If you have problems with loose, uncomfortable dentures – our dental implant overdentures are an excellent option. Dental implants can add much needed stability to give you comfort and confidence throughout the day.
Dr. Speckman is eager to assist you, regardless of which type of denture option you need. All of the services are available right here in our Ventura dental office. Financing plans are also available. Call us today!