About Speckman Dental

Dr. James Speckman established Speckman Dental in 1989. We are committed to delivering quality family and cosmetic dentistry using the most modern care methods available.
CEREC Same Day Crowns
Thanks to CAD/CAM technology, we can deliver tooth-colored porcelain crowns in just one visit. There's no need to schedule multiple appointments, have messy impressions made, or worry about unsightly grey lines along your gums. It's all done digitally.
Galileos CBCT
Computer-guided dental implant placement techniques mean shorter recovery times and more comfortable treatment for our patients. Cone beam 3D imaging allows Dr. Speckman to place your implants virtually prior to your actual treatment, so that you know exactly what to expect.
Dental Lasers
Dr. Speckman has been using dental lasers since 2001. Our lasers allow us to treat cavities without shots or drilling. We can also use them to reshape your gum tissues for cosmetic or therapeutic purposes.
Fluorescent Cavity Detection
Our special camera can detect cavities that are not visible during an exam. This enables us to treat cavities when they are smaller, resulting in a minimally invasive impact on your smile.
Amenities
Each treatment room is equipped with televisions, so that you can watch your favorite program or movie while you wait. Beverages are also available in our reception area.
Se Habla Español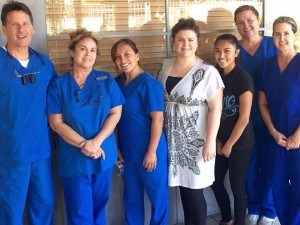 Looking for a dental office in Ventura, CA that is fluent in Spanish? We have staff that is happy to assist you in translation services during your care. Call us today!