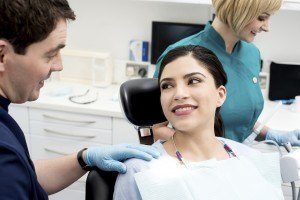 Are you a new patient at Speckman Dental? We are thrilled that you have chosen us as your family dental provider! Here are a few things that you need to know about your first visit with us:
Your First Appointment
We don't let insurance paperwork dictate the philosophy of care that we provide. During your first visit we will review any existing information that needs to be completed, and discuss your primary concerns. If you want to have an exam and x-rays taken to evaluate your current health condition – that is what we will do. If you need a dental cleaning, we will do our best to work that in at the same time! Same day treatment may also be available in some cases.
NEW PATIENT FORMS
Save time by filling out your new patient paperwork at home. Just bring it with you when you arrive for your first appointment!
Click here for New Patient Forms
FAQs
Are dental lasers safe?
Dr. Speckman has been using dental lasers in our Ventura office since 2001. They are extremely safe and can be used on both hard and soft tissues. In many cases, lasers make your treatment more comfortable and less invasive.
Do I need braces?
Braces can improve your oral health if you struggle with crowded or crooked teeth and an increased risk of tooth decay or gum disease. Dr. Speckman offers both traditional braces as well as Invisalign.
Can I be sedated during my dental appointment?
Yes! We offer in-house oral sedation dentistry to help you feel comfortable and relaxed throughout your entire appointment. Whether you are here for a cleaning, extraction, or same day crown, oral sedation dentistry may be exactly what you've been looking for.
Can I finance a smile makeover?
Absolutely! We work with several dental insurance plans to maximize coverage on procedures like white fillings and tooth bonding. Financing options are available for cosmetic treatments like dental veneers. Contact our Ventura dentist for a custom treatment plan so that you know exactly what to expect.
If I have gum disease, can I just have a regular dental cleaning now and a deep cleaning later?
Unfortunately a regular cleaning is not adequate for our patients with gum disease. Although it would make the upper surfaces of your teeth appear clean, it would leave behind infectious bacteria under the gumlines that leads to tooth loss and health problems.
Do dental implants hurt?
Dental implants are much more comfortable than people expect! Our computer-guided dental implant treatments make the implant process even more comfortable than traditional methods of placement.
Do I need bonding or veneers?
Veneers are best for moderate to significant aesthetic concerns, while bonding is ideal for one or two specific teeth with problems like chipped enamel or gaps between them.
Is it expensive to whiten my teeth?
Teeth whitening is an affordable way to drastically improve the color and appearance of your smile. For dramatic results, we recommend pairing whitening with cosmetic bonding or even dental veneers.
Am I a candidate for dental implant overdentures?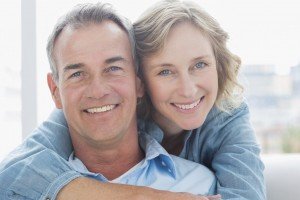 Implant retained overdentures are a great way to avoid discomfort caused by ill-fitting dentures. An implant overdenture will fit securely throughout the day so that it is easier for you to talk or eat. Dr. Speckman uses 3D computer-guided implant techniques, which make dental implants an option for more people than ever before. Call us to schedule a consultation.