Cosmetic Solution to Misshaped Teeth

Bonding uses tooth-colored filling material to repair teeth with aesthetic concerns. Dr. Speckman can use bonding to correct areas that involve:
   

Enamel Irregularities

   

Chipped, Worn, or Uneven Teeth

   

Misshaped Teeth

   

Gaps
We closely match the bonding material to your natural tooth color. Once it is shaped over your enamel and cured in place, you won't be able to tell that anything was even done. It will look as if your tooth is completely whole again.
Composite bonding can be used alone, or combined with treatments like dental veneers and whitening. If you are considering whitening, we suggest doing that prior to the bonding, so that the bonding material is matched to your new tooth color.
What to Expect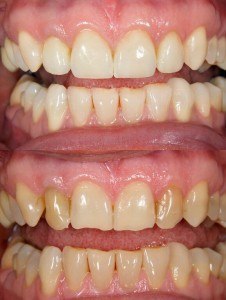 Your bonding appointment will go relatively quickly. Most of the time it takes less than one hour for Dr. Speckman to bond a tooth from start to finish. It may even be possible to treat the tooth without any injections or drilling.
Bonding is one of the most affordable ways to have a tremendous impact on the appearance of one or two teeth. If you've chipped a tooth or have an area that is aesthetically bothersome, call our Ventura office to schedule a Cosmetic Dental Evaluation.