Professional Service to Brighten Your Smile

Getting a whiter, brighter smile doesn't have to be hard – you just have to know where to look!
Dr. Speckman offers two types of professional teeth whitening at our Ventura office.
In-Office KöR Treatment
KöR in-office whitening takes about one hour to complete. It's a great way to jumpstart your whitening routine and see dramatic results in just one appointment. We'll apply prescription grade whitening gel to your teeth and then use a bright light that accelerates the stain release process. Your teeth will be several shades whiter, but we will also send you home with a custom whitening tray to extend your results and keep teeth white for years.
Take Home Trays
Take home whitening trays keep our prescription grade gel right against your teeth – giving you huge results that no over-the-counter products are capable of. Wear your trays once a day for 10 to 14 days for full results. To keep teeth white, touch up for a few days every 3 to 6 months.
Both of our whitening treatments are great for lifting stains caused by:
   

Age

   

Tobacco

   

Tea, Coffee, Soda and Red Wine

   

Medication

   

Natural Discoloration

   

Environment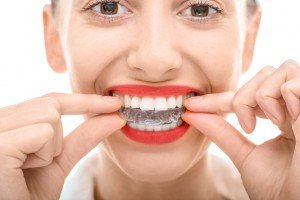 Ask about teeth whitening during your next check-up! We can take impressions for whitening trays right away to get you started, or schedule a time for you to come by our Ventura office for in-office laser whitening.
If you feel that you may need a more dramatic smile makeover, please ask our knowledgeable staff about our Dental Veneers.