Complete Exams and Treatments for a Healthy Smile

At Speckman Dental, we believe quality dental care starts with preventive steps and early disease detection. That's why we recommend a preventive care visit every 6 months for our healthy patients (and more frequently for those with existing oral disease.)
Assessments and X-Rays
Dr. Speckman carefully assesses all areas of your bite – from the way the teeth fit together, the function of the TMJ to the stability of your existing restorations. He even screens for oral cancer. Our digital x-rays compliment your exam by identifying areas of bone loss or tooth decay that are not visible during your clinical exam.
Sopro Cavity Detection
Sopro technology uses fluorescence to identify areas of decayed tooth structure at an early stage. With special lighting, damaged tooth surfaces will illuminate a different color than healthy enamel – pinpointing areas of concern.
In-office Dental Hygienic Services
Routine dental cleanings can help you avoid gum disease, a condition that is linked with significant health problems as well as tooth loss. A Registered Dental Hygienist performs each of our cleanings under the supervision of Dr. Speckman.
Fluoride
Fluoride after a dental cleaning can help weak areas of tooth enamel remineralize so that they are resistant to cavities and sensitivity. We place fluoride on all of our pediatric dental patients, but it is also available upon request for our adult patients.
Protective Mouth Guards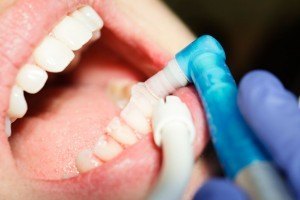 Our custom mouth guards can protect your teeth during athletic activities or from chronic grinding and clenching (bruxism.) If you suffer from TMJ disorder, our bite splints can also be combined with orthodontic therapy to assist you in achieving a healthy bite relationship.
How long has it been since your last dental checkup? If it has been more than 6 months, call Speckman Dental today to schedule your next general dentistry visit!